Posted by Editor on Apr 17th, 2019 in Travel | 0 comments
Travel is one of the best gifts you can give your mom and dad. Perhaps, the trip is to visit a family member or a long-time family friend you haven't seen in years. It may also be a cruise, an adventure trip or even to visit an old home. Whether you accompany your parents or they're travelling on their own, here are seven airport tips to make travelling easier for the seniors.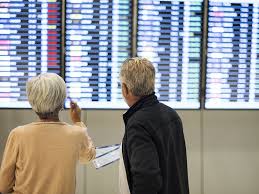 1. Request for wheels
International airports are vast spaces that challenge the stamina of elderly travelers. Make it easy for your seniors by requesting wheelchairs from your airline. Reserve your wheels and roll your way from the security to your gate.
2. Invest in a chaperone
This is especially helpful for elderly solo travelers. There are times when a senior needs extra help in the airport. Airlines allow family members to secure escort passes for their elderly travelers, similar to a boarding pass. Some airlines issue escort passes to meet incoming passengers at the arrival gates. However, these passes are not allowed to incoming international flights due to immigration and customs regulations.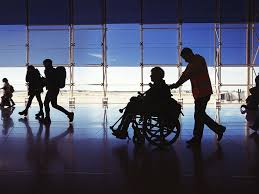 3. Ask the concierge for assistance
For senior travelers who want to be accompanied from the entrance of the airport to the boarding gate, there are concierge services that can help you with that. These services usually includes checking-in of luggage, providing access to expedited lines and lounge services, collecting of bags upon arrival and even getting a cab to send you to your destination.
4. Take advantage of discounted lounge pass
For a comfortable place while waiting for your flight, airport lounge is a worthy splurge to get. While it can be pricey, seniors get discounted rate to get comfortable seating, a fresh cup of coffee, free food, magazines, newspaper and—probably the most important—access to clean bathrooms.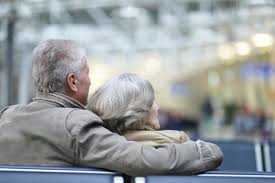 5. Travel smart
There are lots of things that can possibly go wrong during a trip, so it is important to have the most important things with you for a worry-free flight:
• Get a non-stop flight. The faster you get to the destination, the lesser chances of drama.
• Carry the medications in your hand bag, not in the check-in baggage.
• Keep a list of emergency contact names and numbers.
• Wear comfortable footwear.
• Get a seat with plenty of leg room.
• Bring a bottle of water and some snacks.
Travelling with mom and dad is likely the most fulfilling experience you will ever experience in your life. You have the chance to give back for all their love and hard work. Yes, you may feel like a caregiver, but the travel destination will serve as an escape, not just for you but for your beloved elders as well.